Rachel Rosenthal is a comedian, improviser and improv instructor with over 17 years' experience.
She is also a free-style rapper.
Currently residing in New York City, Rachel performs weekly with free-style rapping Hip Hop comedy team, North Coast ("Top 10 Comedy Shows" -Time Out NY) and with Off-Broadway improvised hit, Blank! The Musical. She also performs regularly in her improv duo with Sam De Roest, RaeRoest. Rachel tours nationally (Boston, Portland, Hawaii) and internationally (Iceland, London, Edinburgh) teaching and performing independently as well as with North Coast, and free-form sensation, Big Bang. Rachel is also a writer, storyteller and actress and has been featured on VH1, MTV, and on several podcasts and radio shows including This American Life, Risk!, Slate's "The Gist," and WBUR's "You're the Expert." The Huffington Post once called her an "improv whirlwind," but feel free to make your own observations. Her short-story "Identity Thief" is available through Amazon Publishing.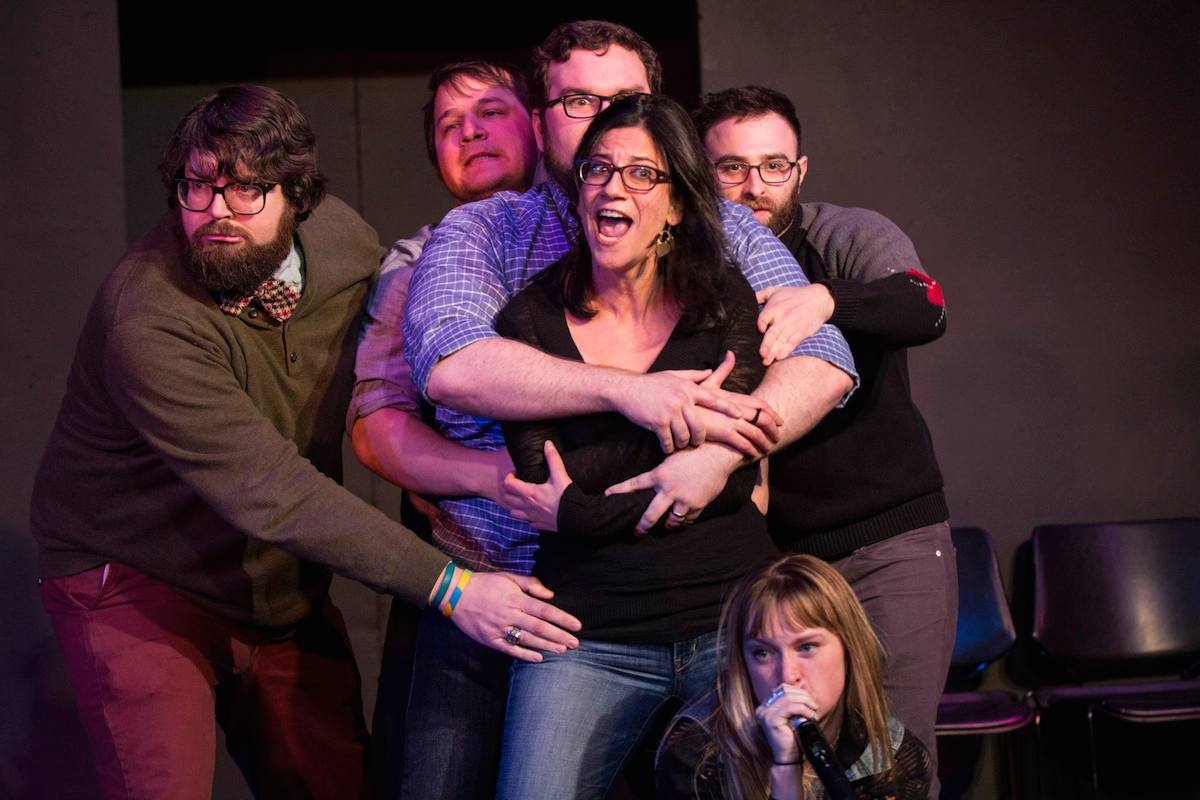 History
Rachel took her very first improv class at age 11 at Curtain Call Theater in Stamford, CT. A few years later, she was a member of teen improv and sketch comedy team, The Half-Pint Players, who performed show runs in both Connecticut and in NYC. She caught the bug and continued performing for years to come.
After getting a degree in TV Production and a minor in Theater at Ithaca college, Rachel moved to Boston where she performed at ImprovBoston in many capacities over the course of eight years including sketch and improv directer and performer. She performed for two years in ImprovBoston's weekly TheatreSports show before moving onto the Mainstage for the remainder of her tenure at the theater. Rachel worked on numerous side projects and indie teams including Improv Foundry, Cabin Pressure, Trail Mix, and Toy Boat in Boston - as well as with comedy duos RaeRoest and War Bride (with HBO's Natasha Rothwell) in New York.
Upon moving to New York City in 2010, Rachel immediately joined the cast of Hip Hop Improv Comedy team, North Coast, and soon thereafter, joined weekly long-time PIT house team, Family Haircut. A few years later, she made her way over to Reckless Theatre where she joined House team, Nemesis. In 2017, she made her Off-Broadway debut by joining the cast of Blank! The Musical.
Rachel has studied at Upright Citizens Brigade (UCB), The PIT, ImprovBoston and elsewhere - with Joe Bill, Dave Razowsky, Asaf Ronen, Will Luera, Jeremiah Jordan, Jon Gabrus, Brandon Gardner, Gavin Speiller, Chris Grace, Jen Curran, Doug Moe, Lydia Hensler and Jill Bernard. She specializes in free-form and musical improv, and has showcased these talents in numerous comedy festivals including Chicago, Vancouver, Iceland, San Francisco, Charleston, Boston, DCM, Pittsburgh, Baltimore, and the Women in Comedy Festivals among others.
Rachel is an award winning improv instructor has led workshops all over the world from Barcelona to Vancouver to Hawaii. In 2014, The PIT awarded Rachel with the "Instructor of the Year Award" for her work with level one improv students. The Huffington Post once called Rachel an "improv whirlwind" after a performance with Rachel Dratch. In 2015, she started her own Corporate Improv Training business - which she continues to run today. Rachel is also the Founder of (former) Bridesmaiding.com. She loves bagels and drinking wine outside.